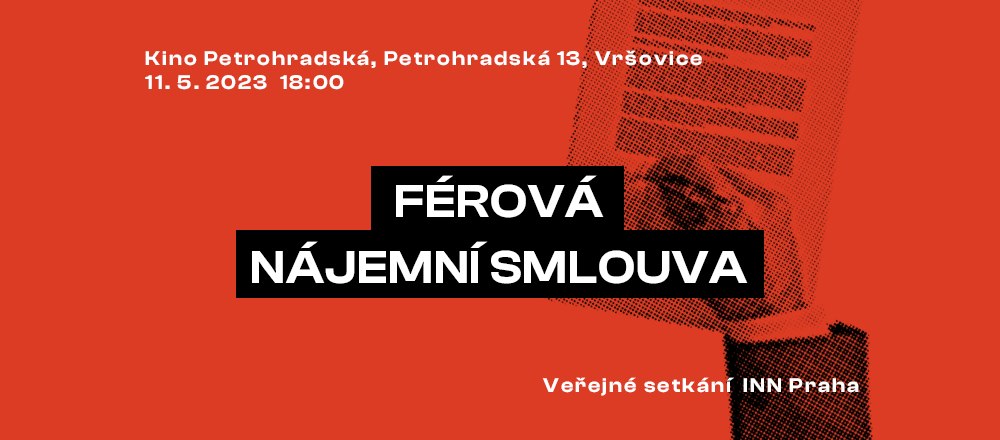 May 15th 2023 at 6 PM
Cinema Petrohradská 13 (Vršovice)
Topic: Fair lease agreement
Join us at the May meeting of 𝑻𝒉𝒆 𝑷𝒓𝒂𝒈𝒖𝒆 𝑻𝒆𝒏𝒂𝒏𝒕𝒔 𝑰𝒏𝒊𝒕𝒊𝒂𝒕𝒊𝒗𝒆!
This month, the guest speaker will be Filip Dus. He will introduce us to a fair lease agreement which aims to protect the tenants from the worst practices of landlords and sets up mutual relations so that it is possible to live in the lease rather than just survive.
𝙁𝙤𝙧 𝙥𝙚𝙤𝙥𝙡𝙚 𝙣𝙤𝙩 𝙨𝙥𝙚𝙖𝙠𝙞𝙣𝙜 𝘾𝙯𝙚𝙘𝙝, 𝙩𝙝𝙚𝙧𝙚 𝙬𝙞𝙡𝙡 𝙗𝙚 𝙖𝙣 𝙀𝙣𝙜𝙡𝙞𝙨𝙝 𝙞𝙣𝙩𝙚𝙧𝙥𝙧𝙚𝙩𝙚𝙧 𝙖𝙫𝙖𝙞𝙡𝙖𝙗𝙡𝙚.
As usual, the programme will include a discussion open to all and refreshments for a voluntary contribution. After the formal part of the programme, join us for a chat about the Initiative, a beer or just a game of ping pong. You can also get advice from an expert on housing allowance.
We meet at Punctum (Krásova 803/27) in the Žižkov district, just about 2 minutes from the tram stop Viktoria Žižkov. There is quite a steep hill so if you prefer going downhill, you can get off at Lipanská or Jiřího z Poděbrad.
𝑺𝒆𝒆 𝒚𝒐𝒖 𝒔𝒐𝒐𝒏